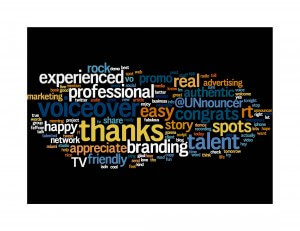 Very few books about Social Media are written as authentically and as earnestly as UnMarketing by Scott Stratten. Scott's smart as a whip, snarky as can be (in a good way – have you ever looked forward to reading footnotes before?) I've been a big fan of Scott's since reading his book last year, and have followed him on Twitter even longer. (Plus, he's a fellow "UN," so he's got that going for him!) But a photo he posted on Twitter the other day got me thinking. It's a word cloud of the words he used most often during his first 50,000 tweets. Yes, 50,000. He's almost at 75,000 now, with no signs of slowing down, and my guess is that an updated word cloud from his Twitter stream wouldn't look much different. (In this word cloud, the larger a word is, the more often it appeared it his tweet stream.)
I wasn't at all surprised to see that the largest word in Scott's cloud is "thanks." And "rt" (short for retweet – re-posting something that another Twitter user has written) isn't far behind. See, Scott gets it. He knows that Twitter isn't about selling to people, it's about talking to them and engaging them:
"Twitter is a community, a conversation, not a pitch platform." – Scott Stratten
Thinking about Scott's word cloud, I was inspired to do two things. First, I went through the list of people I follow on Twitter and deleted those who only promote themselves, their blogs and their webinars. The people who only use Twitter to talk, and not to listen.
Case in point: a self-professed VO "guru." The largest words in his Twitter word cloud include "Class," "Starts," "Workshop," "Today" and "Coaching." Many of his tweets include affiliate links (though he doesn't point out that he'll earn money if you click and buy the products/services he mentions). A little further investigation reveals that this vo "expert" follows fewer than 10% of the people who follow him, making it clear that he's only interested in broadcasting his message, not in meaningful conversations.
"Authenticity is everything. It's not about how many followers you have, but your engagement with them." – Scott Stratten
Next, I wanted to see what my Twitter word cloud would look like (click the image above to get a better look.). You can check yours, too. Just go to Tweetstats.com, enter your Twitter username, then click through to Wordle.
I was glad to see that "Thanks" is one of the larger words in my cloud, along with "Voiceover," "Congrats" and "Appreciate."
If you're wondering about the best way to use Twitter for your business, the subtitle of Scott's book says it all:
"Stop Marketing, Start Engaging."
Edit: To hear Scott explain his views in his own words, check out this YouTube video I just found.